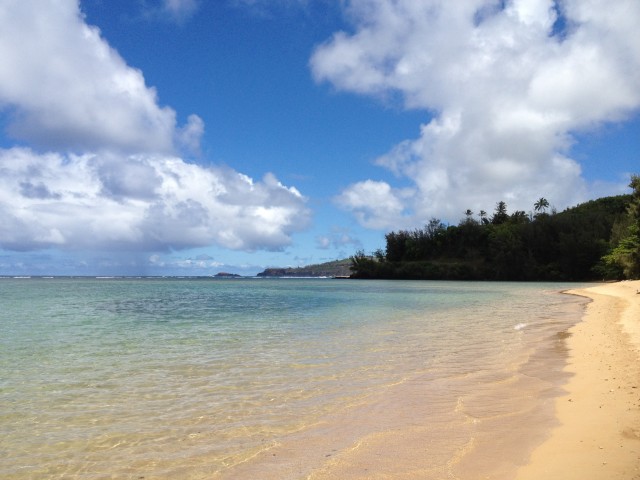 Located on Kauai's North Shore, Anini is one of Kauai's most beautiful and peaceful beaches. It is usually less crowded than Poipu or Hanalei and the beach itself is really quite breathtaking. A long stretch of fringing reef located just offshore tends to keep the water relatively calm here, and make for some good snorkeling.
Anini has some nice facilities including restrooms, showers, picnic tables, a grassy lawn, and pavilions that can be reserved for parties. If the pavilions are not already reserved, they can be claimed on a first come first serve basis. There is also a boat launch ramp here. I point this out, because if you choose to snorkel here, you might want to steer clear of this particular area.
Snorkeling at Anini is quite different than many other Kauai snorkeling spots. The slope is very gradual, so it is possible to swim quite a ways from shore and still be in shallow water. During a low tide, it gets so shallow in fact, that it can be difficult to navigate. The best time to snorkel at Anini is early in the morning when there is a high tide. The afternoons can get windy and stir up the sand, diminishing visibility.
At Anini, you will not see the volume and diversity of fish that you will on the South Shore, but that doesn't mean that you shouldn't snorkel here. If you take it very slow, you will see things at Anini, that you will see nowhere else. For example, in the sandy shallows, you might run across a flounder or helmet gurnard, they are so camouflaged that you won't be able to detect them until you see one move. In the sea grass beds, solar powered sea slugs, or nudibranchs are common and the sea turtles will come in to feed on the sea grass here.
Most snorkelers will pass right by a solitary coral head, but if you stop and float motionless over the top of the ones here, you might discover a whole community of Hawaiian Dascyllus, black and white "Domino Damsels" guarding their coral head. If you are lucky, you might spot a Lionfish or Leaf Scorpionfish, tucked between the branches of the coral. Whitemouth Moray Eels are also common on the reef here.
The best place to snorkel at Anini is in front of the first parking area you come to before the bathrooms and the boat ramp. A lunch wagon often parks here (but will be absent early in the morning). Look out at the water and try to spot the small orange buoy. Snorkel in the shallows first to gain your confidence, but then follow the edge of the reef out to the buoy. Do not swim over the top of the reef, instead follow it along the perimeter.
Please note that there is no lifeguard posted at Anini, so be sure to take all the necessary precautions. Stay in the shallow area if you are a beginner or you are snorkeling with children, but if you are feeling confident, head farther out (with your buddy, of course). It will begin to get deeper and you will enjoy the unusual topography of the reef. Eventually, you will be lead out into a deep and narrow keyhole where you will not be able to go any farther. Look for eels tucked into the walls of the reef, taking your time to discover what lies in each crevice. Then head back to shore following the other edge of the reef. On the way back, be sure to notice where you are swimming relative to the shore, you will want to stay to the left of the boat launch area.
Like all coral reefs, the reef is fragile at Anini. Please practice reef etiquette and if you need more tips about snorkeling, be sure to check out our other snorkeling articles.
Don't forget to bring you fish cards or fish identification books. These are available at convenience stores around the island. If you have kids, order a copy of The Complete Hawaiian Reef Fish Coloring Book. Your children will be able to learn about all the fish they discovered on the reef (including the Helmet Gurnard) while coloring them in. This book is also great for the long plane ride home.
To get to Anini, head north past Kilauea and take the second Kalihiwai road, toward the ocean, then turn left on Anini drive.